The Button Tube Overdrive Pedal
The Button is a tube powered overdrive guitar and bass pedal. The first thing you will notice about The Button is the feel. Unlike most pedals today, The Button is created from thick-gauge cold rolled steel. On this shining slab of metal, a beautiful layer of metallic red powdercoat is added to give The Button an impermeable finish that will last through hundreds of the toughest gigs.
The Button is a true bypass device. Using a quality DPDT push-button switch and Hi-Definition Mogami audio cable, The Button is absolutely transparent.
When you activate the overdrive circuit, you will be rewarded with deep, rich distortion that can only come from a vacuum tube operating at full voltage. The 12AX7 in The Button is not for show like many other pedals. Wall wart free, the built-in power supply applies 254V DC B+ voltage to the plate of the tube. This yields a tone that is full and rich with harmonics. Try that with a transistor pedal.
The Button is manufactured at the TubeDepot.com headquarters in Memphis, TN. Each pedal is handmade, serialized and signed by the technician that assembles The Button.
June 25, 2015: Our last 12 units are now in production. We will not be making this pedal any longer.
Listen to The Button: American Standard Strat through a Tweed Deluxe. Amplifier was clean with no distortion.
Creamy Blues MP3
Maximum Overdrive MP3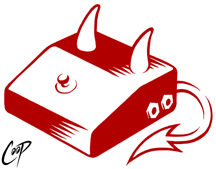 Free The Button t-shirt with order.
Customer Comments:
Just wanted to let you know, I've tried many overdrive/dist pedals (Mad Professor, Barber, EH, Swell, BOSS ...), and your Button is the best! Alex V. - Ankeny, IA
Best tube Box I've had. I've owned over 50 distortion boxes and I'm only keeping this one, an Analogman King Of Tone and a Retroman Lola fuzz. Greg W. - Oklahoma City, OK
Holy SH*T! - I love the The Button. It's replaced all my other distortion boxes and is great both live and in the studio. Rusty B. - San Diego, CA